LATEST SEYMOUR MAIN STREET NEWS
2023 Dancing with the Seymour Stars
Credit to: The Tribune | Erika Malone
Saturday night came to a close for Dancing with the Seymour Stars after $97,311.63 was raised to benefit the Boys and Girls Club of Seymour and Seymour Main Street.
The annual event, which is now a decade old, has raised more than $1 million dollars thanks to those in the community, who have put it all on the line as dancers to provide entertainment and compete at dollar a vote to be selected the winner.
The winner of the 2023 Dancing with the Seymour Stars was Tom Gray and Randall Rust, runners-up were Dr. Jill Mikles and Allen Mikles and third place went to Nancy Rendon and Elmer Velasquez.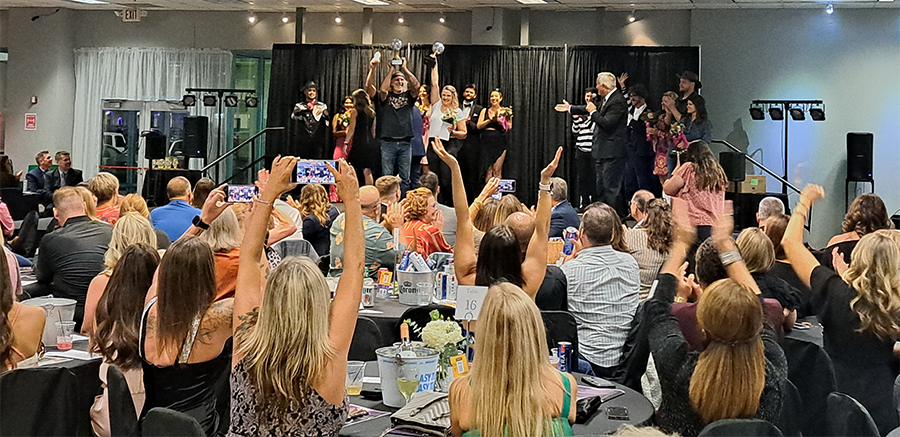 As community members mingled about at Celebrations in Seymour, a few of the contestants were preparing for the sold-out performance of their lifetime.
Michelle Stephens, who is a members relationship director with the Jackson County Chamber of Commerce, said that she was ready to go.
"I feel great," she said. "The first performance during the matinée show was a little nerve-wracking, but now that I got that under my belt, I feel good."
Stephens said the experience has been wonderful especially working with her partner, Colin Smith, the airport manager at the Freeman Municipal Airport, whom she has never worked with before.
"I loved every single bit of it," she said. "Just getting to know someone I have never known before and practicing together. It's just been a fun experience."
Stephens and Smith played the role as robbers dancing their way to steal the votes to the song "Bad Guy" by Billie Eilish.
Stephens said Matt Nieman gave them the idea for the song and Katrina Hardwick helped them with the choreography. Hardwick with Darren Richey won the 2021 Seymour Dancing with the Stars.
"We put quite a bit of work into the routine," she said. " We worked with Katrina for four hours of practice three times a week and then this past week we practiced every day."
Stephens said she looked forward to seeing everybody involved in the community supporting these organizations that make a great impact.
"Both of them are very near and dear to my heart so, I am very excited to see our community come out and support this and continue to make it bigger," she said.
Full-time college student at IUPUI, Nancy Rendon, puts the finishing touches on her all pink outfit before she dances the night away for charity.
"I'm pretty pumped about tonight," she said. "The first show helped get some of the nerves out and its a sold out show so I am excited to see everyone here."
Rendon said finding time to practice for the routine with her partner, Elmer Velasquez, owner and barber at HairCuts 504, was somewhat stressful due to her busy schedule of classes and commuting back and forth.
"We probably only practiced our routine four or five times so, probably not as much as other couples did, but I think we got this," she said.
Rendon and Velasquez knew they wanted to go with something trendy and with the "Barbie" movie taking the world by storm they decided that was a good option.
Dressed in pink from head to toe dancing to Dua Lipa's "Dance the Night," the couple received a great amount of applause.
"I am just excited to see everyone dance and come together for a good cause," she said.
Tom Gray, co-owner of Vat & Barrel, and Randall Rust, owner and manager at Schwatzer's German Restaurant, said they were excited to show the crowd their wild side.
"We have been friends for a couple of years now and it has been an awesome experience working together," Rust said.
"I has all been so much fun I don't want it to end," Gray said.
Playing into their rebellious personalities, the couple dressed in leather and danced to "Bad to the Bone" by George Thorogood & The Destroyers.
"We like to live a little on the edge," Gray said.
Gray said they practiced their routine every week for over a month and was successful in their fundraising efforts during a blind bourbon tasting at Vat & Barrel that raised about $7,000 in one night.
"I am just looking forward to making people smile and laugh tonight," Gray said.
Rust said at the end of the day she was glad to be raising money for two amazing organizations.
Seymour Main Street's Executive Director, Bri Roll, thanked community members for attending and offering their support. She also spoke about what Seymour Main Street does for the community.
"Downtowns are the heart of our community," she said. "Seymour Main Street is committed to planning, promoting and preserving our historic downtown and bringing back that vibrancy to our community."
Ryon Wheeler, executive director of the Boys and Girls Club, also gave thanks to community members and spoke about the organization's efforts in the community.
"Ten years ago when this event started the Boys and Girls Club was very different," he said. "We were a single unit site serving about 75 kids a day here in Seymour. We are still Boys and Girls Club of Seymour, but we are much bigger."
Currently, the Boys and Girls Club now has six sites, four being in Jennings County. The organization expanded into Brownstown at Brownstown Elementary School in 2021 and now serves around 500 kids per day.
"We are not housing kids we are changing their lives," Wheeler said. "Your donations and what we do helps cover the cost. Thank you all for the support."
Before the winners were announced, the Dancing with the Seymour Stars Committee awarded Bruce Wynn a limited edition Dancing with the Seymour Stars bourbon bottle courtesy of Vat & Barrel for starting the idea for the event a decade ago.
"The generosity of this community is amazing," Wynn said. "Thank you all so much for coming every year and contributing to this each year."
Gray and Rust gave some final thoughts after a round of applause was given for their victory.
"We are so excited and glad to have been a part of this," Gray said after taking the top spot.
"So happy. I can't believe it, and this was all for a great cause," Rust said.

Ghouls & Goblets 6th Annual Sip'n Stroll Event
Join Seymour Main Street on Friday, October the 13th for our 6th Annual Ghouls and Goblets Sip 'n Stroll event in Historic Downtown Seymour!
Come and enjoy fang-tastic beverage samples from nine (9) Indiana Wineries and Breweries including Seymour Brewing Company, Chateau de Pique, Hard Truth, Holtkamp Winery, Mallow Run Winery, Country Boy Brewing, Bloomington Brewing Company, Knights of Columbus, and Schwatzer's German Restaurant! Vendors will be selling packaged products as well as beverages by the glass! Spooky stories and ghoulish tales will be told to participants who dare to listen, every half hour!
The event will take place on Friday, October 13 th from 6:00 – 9:00 PM, and tickets for this event are $20.00. Each ticket holder will receive a commemorative goblet for complimentary tastings and a map of locations for stories and drinks. Each ticket holder must check in between 5:30 and 7:00 PM at the Seymour Museum Center of Indiana located at 220 N. Chestnut Street to receive their wrist bracelet, goblet, and map. A portion of our tickets will be sold at the door, but only participants who purchased a ticket online before the event will be guaranteed a commemorative goblet!

You don't want to miss out on the frightful fun, grab your tickets before they disappear like ghosts in the night!
This event is for 21+ only.
Thank you to our Ghouls & Goblets Signature Sponsor Roger Wessel – Berkshire Hathaway!

Seymour natives' part of Mellencamp tribute band performing at City Jam.
Courtesy of The author is Zach Spicer, and The Tribune.
A couple of John Mellencamp tribute bands run through the Seymour native's hit songs during their shows.
The American Fools Band plays the hits, too, but one thing that makes its shows unique is delving into some of the songs from Mellencamp's early albums.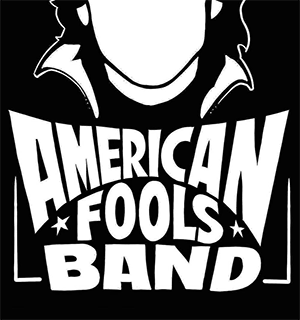 "We play mostly the hits because that's stuff people know, that's stuff they want to hear. We're going to give the people what they want," Seymour native Brian McKenna said. "But the magic is in the Larry Crane years. The guitars are all very Rolling Stones-based, and I didn't even get into that until I started learning how to play that, especially the first five (albums), 'John Cougar' all the way through the 'Scarecrow' album."
Mellencamp doesn't typically play those early songs during concerts, McKenna said.
"We do, and it's great to see the diehard Coug fans out here when you bust into like 'Sugar Marie' and they are like, 'Holy moly!'" he said. "It's really cool. That's the stuff I like is that early stuff."
The American Fools Band formed a couple of years ago, and if you haven't had a chance to attend a show yet, you're in luck.
They are this month's act for Seymour Main Street's summer concert series, City Jam, on Thursday night. The free show will go from 6:30 to 8 p.m. at Crossroads Community Park, 101 E. Tipton St., Seymour. Food and drinks will be available for purchase starting at 6 p.m., and series sponsors will have booths set up.
With McKenna and the band's drummer, Jason Stahl, both being from Seymour and Mellencamp being from that same small town, this show is extra special.
"It is very cool because I like giving back to the community as much as I can, and I don't get back there as often as I should," said McKenna, who plays guitar in the band and has lived in Indianapolis since 1990. "I still have some great friends there. My best friend from school is down there. We still talk a couple times a week and try to see each other maybe once every two months. … I hope I get to see a bunch of old friends."
Stahl, who has lived in Nashville since 2014, said he also is looking forward to seeing friends and faces he recognizes.
"We're very excited. At the same time, we better be on our A game," he said. "That's really how we look at it. It doesn't get any more historically or in the moment than that."
McKenna reached out to Seymour Main Street Executive Director Bri Roll a year ago about being part of City Jam, and he was glad the band was chosen to be featured.
"I know I speak for my other Seymourian when I say this is an honor to us to be able to come down there and present a great show that's well-rehearsed and provide this entertainment to the people that we grew up with," he said.
"Even more than that, the people we admired growing up — a bunch of the schoolteachers that we had … our coaches and just music teachers — this is us showing them thank you," he said. "I hope people come out and see it because we're incredibly grateful for the opportunity to be able to play, especially in our hometown."
McKenna graduated from Seymour High School in 1986, and Stahl followed in 1990.
They had been talking off and on in recent years about forming a Mellencamp tribute band. Both were involved in the Indianapolis music scene, so that's how they initially put the band together.
"We pulled from people that we knew and pieced the band together and just started practicing for many months until we figured out what it needed and so forth," Stahl said.
Due to some health issues, the original lead singer had to bow out, so Danny Isaacs is now in that role and also plays guitar. Other guitarists are McKenna and Adam Siddiqui, Bryan Chrisman is on bass, Stahl is on drums, Jeff Morris plays keys and percussion and provides backing vocals, Emma King plays fiddle and does backing vocals and her sister, Ella King, plays banjo and accordion and does backing vocals.
"The lineup we have now is super strong, and it should be a good time," McKenna said. "I'm blessed to be around this group of musicians."
He and Stahl both have high praise for the King sisters, who grew up in a family of musicians.
"These two girls just floored me," McKenna said. "They are so talented. They actually get a spot in the second set where it's just those two. It's absolutely precious and amazing at the same time."
Stahl said their harmonies are impeccable.
"Having the real fiddle in there, we're able to go back and recreate some of those unique arrangements that John had for his live shows," he said. "There's a bridge in 'Small Town' that we do that is just like John did it back in 1990 and he hasn't done it since, so those people that really love that time period are really going to appreciate some of the little things that we've got in the show."
So what's the key to doing Mellencamp songs well? Stahl said really listening is important.
"It's more than just playing the notes and so forth," he said. "John is always brilliant in his arrangements. They are totally unique, and we talk to other musicians that end up having to play his stuff, they are like, 'You never realize how intricate and complicated some of the stuff that he has put together is until you actually have to play it.' Just really listening to it, taking it apart and doing your absolute best to try to recreate that sound, it's not easy. It takes a lot of time."
Growing up listening to Mellencamp's music, Stahl said it's special to have a chance to play it live.
"There's a depth to it because at that point in time, he was really touching sensitive topics and real-world issues that were going on and really forgotten about, and a lot of those were just right in our backyard," he said. "Before social media and everything, music was the way to convey and get that stuff across."
Stahl recalled he and his dad visiting the studio when Mellencamp recorded "Lonely Ol' Night."
"To be able to actually play that now, it's full circle, surreal," he said. "A lot of special memories with all of that music. When you're a young kid and you don't have cable television, you're listening to records all the time. I burned 'Uh-Huh' and 'Scarecrow' out, so to play all those live now, it's so much fun."
McKenna said he was really inspired by what Mellencamp and Crane were doing before they were well-known. He remembers seeing them perform "I Need a Lover" on "American Bandstand."
"These guys were out there actually doing it before I knew they were famous. They were just regular dudes. They were just my buddy's older brothers and his friends," he said. "Then once I saw (their success), I was like, 'Man, that's inspiring.' That made me feel like anybody can do it. If they can do it, why can't I play? I've always thought it was great that they gave everybody in that town a bunch of inspiration for music and everything and the arts."
Stahl said Mellencamp has always surrounded himself with great musicians, too.
"I've talked to a bunch of guys in his band, and before they go on tour, they will practice for almost a full year, like six months to eight months, nine months of five to six days a week eight-hour days," he said. "That's why he has always been known for having just the most incredibly tight and polished band ever. He works those guys, and they respond, just a lot of creativity in the live shows."
The only other show planned this year for the American Fools Band is Sept. 9 at Brown County Playhouse in Nashville.
"It's more of an indoor listening venue, so we're excited about that," Stahl said. "Once you get past the historic façade, the front of it opens up into a massive place. It's a 400-seat, sunken-down, walk-down-to-the-stage venue with kind of a horseshoe audience, so the stage protrudes out a little bit. It's really unique."
SMS Receives 2023 Main Street America Accreditation
May 2023
Seymour Main Street has been designated as an Accredited Main Street America™ program for meeting rigorous performance standards. Each year, Main Street America and its partners announce the list of Accredited programs to recognize their exceptional commitment to preservation-based economic development and community revitalization through the Main Street Approach™.
"We are very proud to acknowledge this year's 862 Accredited Main Street America programs, and their steadfast dedication to nurture economically and culturally vibrant downtown districts," said Hannah White, Interim President & CEO of Main Street America. "The increase in the size and impact of our network speaks volumes to the power of the Main Street movement to respond to the needs of local communities and drive innovative solutions."
In 2022, Main Street America programs generated $6.2 billion in local reinvestment, helped open 7,657 net new businesses, facilitated the creation of 29,174 net new jobs, catalyzed the rehabilitation of 10,688 historic buildings, and leveraged 1,528,535 volunteer hours. On average, for every dollar that a Main Street program spent to support their operations, it generated $24.07 of new investment back into their downtown communities.
Collectively, 2 million people live or work within the boundaries of designated Main Street America districts. An estimated workforce of 1.1 million people contributes their skills and expertise to advancing the missions of these historic downtowns and commercial corridors.
Seymour Main Street's performance is annually evaluated by Indiana Main Street which works in partnership with Main Street America to identify the local programs that meet rigorous national performance standards. To quality for Accreditation status, communities must meet a set of rigorous standards that include commitments to building grassroots revitalization programs, fostering strong public-private partnerships, nurturing economic opportunity for small businesses and entrepreneurs, and actively preserving historic places, spaces, and cultural assets.
"Refresh and refocus" were the areas of focus for 2022. Our Historic Downtown Seymour gained twelve (12) new businesses in 2022, while three (3) closed and two (2) relocated outside of the Downtown area. Downtown Seymour has four (4) additional buildings transforming to active spaces in 2023 and a reactivation of one (1) building vacated that occurred within the last year. Furthermore, in 2022 Seymour Main Street partnered with over fifty (50) local businesses to host fourteen (14) events and Seymour Main Steet reported over one thousand (1,000) volunteer hours. In 2022, $115,000 in grant funding was awarded to sixteen (16) Downtown Businesses; six (6) build-out awards, five (5) façade, awning, and sign awards, two (2) rental assistance awards and three (3) roof stabilization awards. In 2023 Seymour Main Street will be focused on fulfillment by continuing to evaluate our organization's efforts to ensure key performance indicators are being met, as well as confirming that our workplans align with our Master Plan and our Target Transformation Strategy.
"We are thrilled for Seymour Main Street to continue to achieve the prestigious designation of an Accredited Main Street America program. The partnerships with Indiana Main Street and Main Street America have provided access to tools, resources, trainings, and funding to further enhance Seymour Main Street's revitalization and preservation efforts." – Executive Director, Bri Roll.
Seymour Main Street Awarded $20,000
April 2023
Author - Zach Spicer
Seymour Tribune
Seymour Main Street is three-for-three in applying for the Taking Care of Main Street grant opportunity offered through the Indiana Office of Community and Rural Affairs.
That office and Indiana Lt. Gov. Suzanne Crouch recently announced 10 Indiana Main Street organizations will receive $149,520 in funding through the program, which provides organizational support for activities and administrative functions necessary to meet the new accreditation standards for state and nationally accredited Indiana Main Street programs.
The goal of the grant program is to support organizations as they transition to the new accreditation standards implemented by Main Street America. By providing this financial assistance, the organizations will be able to provide direct assistance for growing economic development initiatives in their community, including business retention and recruitment, organizational growth, transformation strategy implementation and more.
Eligible expenses include salaries, administrative or consultant fees, space or equipment rental or staff development and training.
Director Bri RollSeymour Main Street Executive Director Bri Roll said Indiana Main Street has developed strong relationships with all programs in the state to successfully communicate available funding opportunities, including Taking Care of Main Street.
This time around, Seymour Main Street was awarded $20,000.
"Ecstatic," Roll said of her reaction to the news. "The funding we receive will better position our organization to recruit new business while supporting our existing businesses. It will also position us well as we are moving into a more robust national accreditation process. The standards are shifting, requiring each program to meet six standards within our operations with defined key performance indicators."
This third round of Taking Care of Main Street funds will help Seymour Main Street improve its lowest performance areas, ensuring national accreditation is retained, Roll said.
"Each round, the TCOM application has evolved," she said. "This year, there were specific areas the funds could be used for. To qualify, we had to submit work plans, professional service quotes, detailed descriptions of the scope of work, timelines for execution and data supporting proof of a need for the funding."
In July 2022, Seymour Main Street secured the professional consulting services of The Veridus Group of Indianapolis to assist with the implementation of a downtown streetscape master plan. That project, which incorporates planning documents from multiple organizations into one master vision, began in August and finished in February of this year.
The plan details ways to improve the design and development of the downtown through greenspaces, placemaking, multimodal accommodations, cohesive site furnishings and a gateway to the downtown, Roll said.
In addition to visual enhancements, the plan identifies procedural improvements to address neglected buildings and encourage revitalization efforts in the downtown area.
"The original contract included creating a master document based on community input, existing planning documents, demographic research, creative design suggestions and S.M.A.R.T. goals implementable within the next two to three years," Roll said. "Moving forward, Seymour Main Street is leveraging the professional experience and expertise of Veridus Group to assist our program with implementing the S.M.A.R.T. goals in the master plan."
The additional Taking Care of Main Street funding will go toward consulting fees for The Veridus Group to analyze Seymour Main Street's existing business recruitment and attraction toolkit for inefficiencies and improvements, Roll said.