Fun for Everyone in Downtown Seymour
The Roots of An American Rocker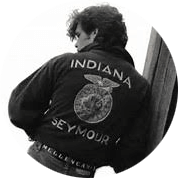 John Mellencamp's past is planted firmly in Seymour and Jackson County. That past comes alive with an audio driving tour, created by the Jackson County Visitor Center. "The Roots of An American Rocker," offers a glimpse of Mellencamp that most people have never seen. The CD features stops at many of John's old stomping grounds and a detailed map of Seymour.
The CD is available for purchase at the Jackson County Visitor Center, 100 North Broadway Street, Seymour, for $13.99. Due to licensing agreements, the CD cannot be shipped outside of Indiana. For information, contact the Jackson County Visitor Center at 812-524-1914.
Parking Lot Pickers
Instead of spending your Saturdays and your gas money driving around town to different sales this summer, make one stop at our Parking lot pickers event. There are lots of finds from furniture to clothing and collectables to antiques and handmade items. You won't be disappointed in this event!
Date: April 22nd 8:00am -1:00pm
Location: Robertson Lot (The Robertson Lot is located on the SE corner of St. Louis Avenue and Walnut Street)
Vintage Camper Event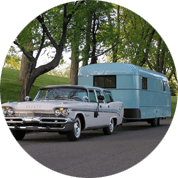 Come check out these "Glampers" these are vintage campers that owners have restored and brought back to their glory days. You can tour the "glampers" have a snack, enjoy some live music and do some shopping at Seymour 's great selection of downtown shops. This event is perfect for all ages!
Date: April 28-29
Location: Walnut Street Lot
More Information: Click here to print out a Vintage Camper Event Flyer
Lawn, Garden and Patio Show
Lawn, Garden and Patio show-come see what's new for your outdoor space this Spring! We make it easy by bringing vendors together all in space so you can shop and compare and make your outdoor space the best for entertaining this Season.
All types of lawn, patio, porch, personal, home and garden supplies will be displayed and sold, including live plants, artificial flower arrangements, a variety of art and even recycled jewelry.
Date: May 20th 8:00am till 1:00pm
Location: Robertson Lot (The Robertson Lot is located on the SE corner of St. Louis Avenue and Walnut Street)
Seymour City Jam
Come enjoy live music downtown Seymour, we will have local food vendors with dinner, and adult beverages for sale.
June 15, Woomblies Rock Orchestra
July 20, Back in the Day (Classic Rock from the 70s and 80s)
August 17, First Time Caller (5 piece cover band from Indy)
September 21, Louisville Crashers (Let's end the summer with a great street party)
Location: Downtown Seymour on 2nd Street between N. Ewing & Indianapolis Ave.
Scoop the Loop Car Show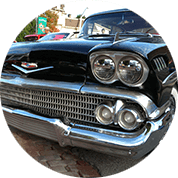 Downtown Seymour is remembered fondly by many as a great place to hang out and show off your car. This tradition is back with Scoop the Loop, come down enjoy the car show and then take your car around the block for Scoop the Loop. There will be Root Beer floats, music and more amazing cars than one person can count. Don't miss this yearly event!
The FOP Pre-Scoop Cruise-In & Car Show is a benefit for the Fraternal Order of Police Lodge 108's FOP Cops & Kids Programs. Trophies will be awarded in 20 vehicle classes, and 1 large trophy will be awarded for best in show. Special award for long distance traveler. Parking will begin at 3:00 PM. The show starts at 6:00 PM and judging will begin at 7:00 PM. Live music provided by Bad Medicine. Food and drinks will be available for purchase. This event is sponsored by Lucas Oil, Axalta, This Old Guitar Music Store, The Seymour Area Cruisers, and Jim's Body Shop, Inc. Please join us for a great time! It's all about the Kids. "FOP Cops & Kids"
Date: August 25th @ 6:00pm
Location: Downtown Seymour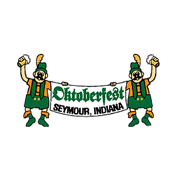 Oktoberfest
Each year Oktoberfest brings together thousands of people from around the world to celebrate homecoming, community cooperation, and German heritage. The Seymour Oktoberfest offers a diverse line up of live music, performances, and interactive events including the Oktoberfest Parade, Hot Air Balloon Glow & Race, 5K Walk/Run and much more. For more information please visit the website below.
Date: October 5-7th Oktoberfest
Location: Downtown Seymour
More Info: www.seymouroktoberfest.com
Downtown Shop Around Events
Shop at the downtown shops and get your card punched and then get entered to win a door prize with your completely punched card at the end of the event.
July 15th - 9:00am - 3:00pm
September 16th - 9:00am - 3:00pm
November 18th - 9:00am - 3:00pm
FAMILY FUN IN DOWNTOWN SEYMOUR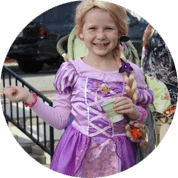 Downtown Trick or Treat
Kids can parade and show off their costumes for a costume parade and enjoy shopping in the well lit downtown area as shop owners give away candy to the kids
Date: October 30th 4:00pm - 6:00pm
Location: Downtown Seymour
Downtown Christmas Tree Lighting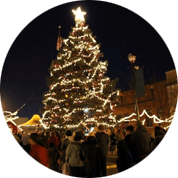 Live reindeer, snacks, music and art for kids and a visit from the man in the red suit, as we light the Christmas Tree in Chamber 1 square
Date: November 27th 5:00pm - 7:00pm
Location: Downtown Seymour